Flamenco, a musical and artistic genre that evokes passion and emotion, has deep roots in Spanish culture and has flourished over the centuries as one of the most moving forms of expression in the world. In this blog, we will explore the origins and evolution of flamenco, delving into its rich and fascinating history.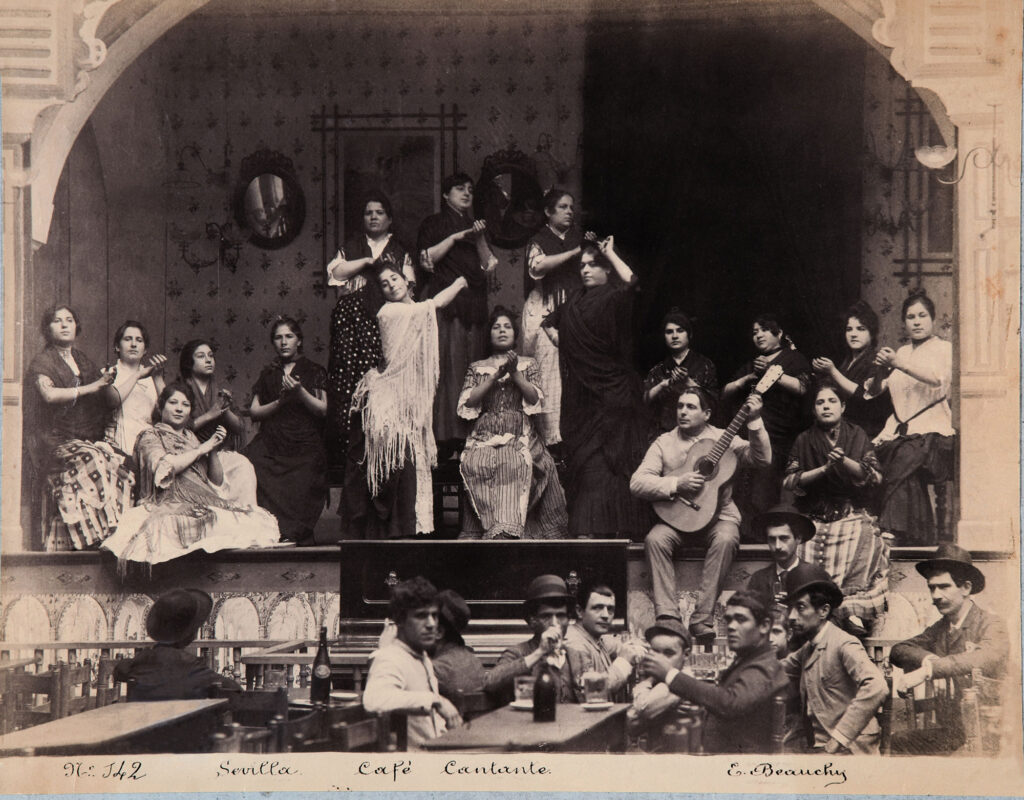 Origins of Flamenco
Flamenco originated in the region of Andalusia, in the south of Spain, but it also has some roots in other regions of the country, such as Murcia or Extremadura. Its origins are as diverse as the country itself, with influences from Gypsy, Arab, Jewish, and Spanish cultures. It emerged as an artistic expression in marginalized communities and was passed down orally through generations. Cante (singing), toque (flamenco guitar playing), and baile (dance) are the three pillars of flamenco, each playing a vital role in creating its magic. Singers convey the deepest emotions through their voices, guitarists add rhythm and passion, and dancers bring the music to life with intense and expressive movements.
The Gypsy Community and Flamenco
The nomadic Gypsy community arrived in Spain in the 15th century and played an essential role in the formation of flamenco. Their music and dance merged with local traditions, resulting in a cultural fusion that ultimately led to the flamenco as we know it today. Its roots are deeply embedded in a blend of cultural influences, including Gypsy, Arab, Jewish, and Spanish traditions that melded in the region. In terms of dance, flamenco is believed to have received influences from dances originating from the Indian subcontinent, the ancestral home of the Gypsy people. This cultural fusion brought a distinctive element to flamenco that makes it unique in its expression.
19th Century: Flamenco on Stage
The 19th century marked a crucial moment in the history of flamenco, as this artistic genre began to transcend the boundaries of intimate gatherings and family reunions to gain visibility on public stages. During this time, flamenco underwent a transformation that made it appreciated and admired by a broader audience.
Tablao and Café Cantante
It was during this period that tablaos and "cafés cantantes" became the epicenters of flamenco. These establishments multiplied in the major cities of Andalusia, such as Seville and Cadiz, as well as in other parts of Spain. They were places where artists could express themselves freely through singing, guitar playing, and dance, and where the audience could enjoy passionate performances in a close and intimate atmosphere.
The Emergence of the "Cantaor"
During this period, prominent figures emerged in the world of flamenco, such as the "cantaores" (flamenco singers) who began to gain recognition for their exceptional ability to convey emotions through singing. Cantaores became central figures in flamenco performances, and their presence in tablaos and café cantantes was highly anticipated.
The Flamenco Guitar
The 19th century also saw the consolidation of the flamenco guitar as an essential element in flamenco performances. The flamenco guitar, with its characteristic rhythm and its ability to accompany singing and dancing, became a fundamental accompaniment for live performances.
Flamenco Dance on Stage
Although flamenco dance was practiced from its origins, the 19th century witnessed a greater professionalization and stylization of this discipline. Bailaores and bailaoras began to stand out on stages, adding a visual, vibrant, and highly exciting component to flamenco performances.
Flamenco Beyond Andalusia
The 19th century also marked the beginning of the spread of flamenco beyond Andalusia. The genre began to gain popularity throughout Spain and in other European countries, contributing to its international evolution and recognition.
In summary, the 19th century was a crucial period in the history of flamenco, taking it from family celebrations and intimate gatherings to public stages, where its emotional and artistic power captivated an ever-widening audience. This century laid the foundations for the ongoing evolution and internationalization of flamenco in the 20th century and beyond, as we know it today.